All New H-D Sportster Seventy-Two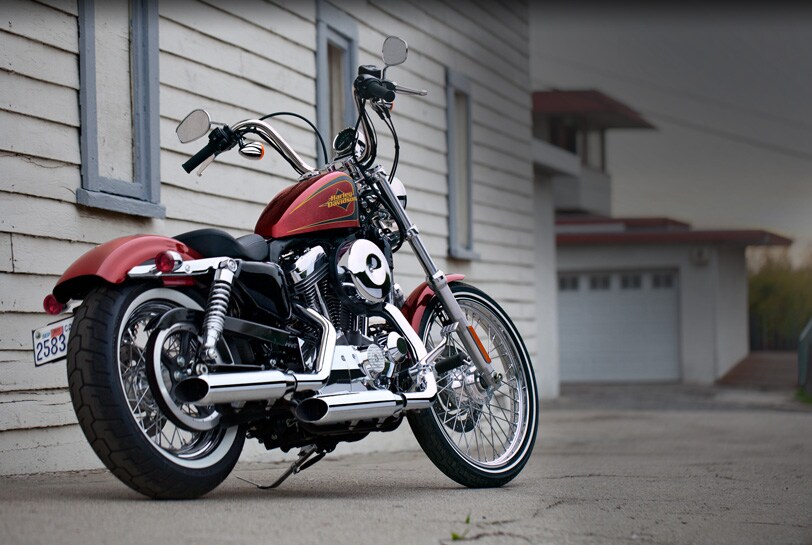 The 2012 Harley-Davidson Sportster Seventy-Two XL1200V is a bare bones radical custom. From front to rear, the Seventy-Two sports a bold, vintage look that recalls classic bobbers and the styling of 1970s choppers. With its big flake paint, peanut tank, round retro-style air-cleaner cover, ape-hanger handlebars, and brilliant whitewalls, the Sportster Seventy-Two boasts a one-of-a-kind custom style that's full of attitude. And the Seventy-Two is uniquely priced to be an incredibly attractive value.
No other bike in its class offers so much no-nonsense retro attitude and modern high-end style at such affordable cost. The Harley Seventy-Two is a masterful mix of vintage bobber and contemporary retro-chopper styling. Its powerful Evolution engine gives it impressive road muscle. The XL1200V's big-flake paint on the fuel tank is eye-catching, expressive, and of the highest Harley-Davidson quality.
Forward-mounted controls make the Seventy-Two XL1200V comfortable for cruising across town. The Harley-Davidson XL1200V is an attractively priced bike that brings the best of modern chrome-and-bling appeal to an aggressive, old-school chopper attitude. The Seventy-Two screams high-end custom, at a price that makes the it truly accessible.
For more retro-inspired modern custom rides, take a look at other 2012 Harley-Davidson Sportsters, like the XL1200X Forty-Eight, or the new 2012 Softail Slim FLS, which brings the best of old-school 1940s-era bobber style to today's streets with a contemporary flair and up-to-date ride technology.
----

All New H-D Softail Slim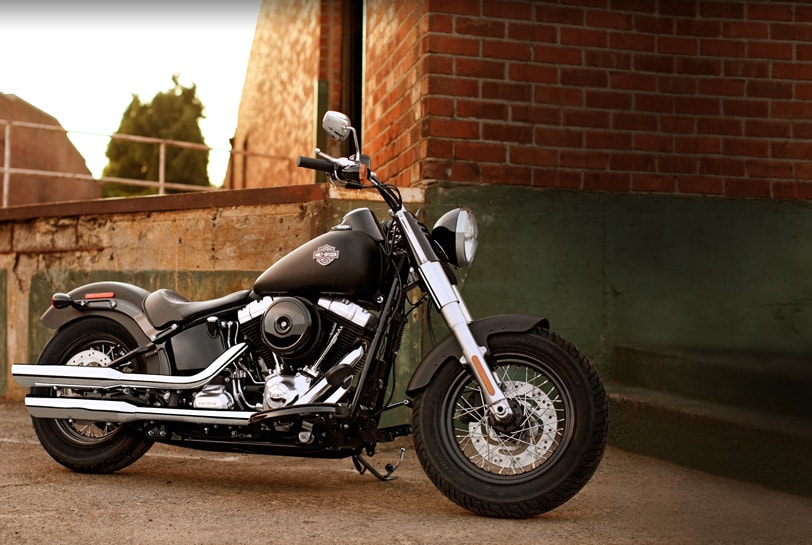 The 2012 Softail Slim FLS blends raw, minimalistic 1940s bobber styling with up-to-date old school minimalism. The Slim offers tons of stripped down attitude, fat features, including black-rimmed wheels, round black air cleaner cover, Hollywood-style handlebars, and fat chromed front forks, as well as raw, minimalistic finishes throughout. Its chopped rear fender and narrow rear profile adds to the Softail Slim's long, lean vintage chopper look. The 103cc Twin Cam engine gives the Slim FLS the power punch you need to crush those hills or leave traffic passed and behind.
The Softail FLS sports blacked out features and raw finishes for a no-nonsense attitude that recalls classic bobbers of the 1940; the engine, rims, air-cover, headlamp and more are all blacked out. The Harley-Davidson Slim rides with confidence-inspiring handling, at low and high speeds, and its light design makes putting it on or lifting it off its easy jiffy stand quick and easy. The Harley Slim is a great value with muscular, minimalist styling and powerful performance packed into a bike that's affordable.
And if this bike isn't what you're looking for, check out other Harley-Davidson custom motorcycles, like the Softail Blackline FXS, Sportster Forty-Eight XL1200X, the Dyna Fat Bob FXDF, or the new Sportster Seventy-Two XL1200V. Harley-Davidson is the leader in fat custom, dark custom and bobber style bikes and you're sure to find one that's perfect for you.